Sheraton Detroit Metro Airport
July 12, 2019 (Friday) - July 14, 2019 (Sunday)
8000 Merriman Road Romulus, Michigan 48174
Regional and Local Forums
Regional Forums originated in 1975 at the suggestion of Dr. Jack Norris, then Chair of the General Service Board of Alcoholics Anonymous. They were to be weekend sharing and informational sessions designed to help the General Service Board, A.A. World Services, Inc., the Grapevine Corporate Board, the Grapevine Staff, and the General Service Office Staff stay in touch with A.A. members, trusted servants and newcomers to service throughout the A.A. service structure.
Originally, at the invitation of a region, four Regional Forums were held each year.  Since the U.S./Canada service structure is composed of eight regions, a Regional Forum was held in alternate years in each region on a rotating basis.  In October 2006, the General Service Board approved the concept of an Additional Regional Forum to be held upon request in each region every eight years also on a rotating basis, bringing the possible number of Regional Forums held each year to five. In 2012 the General Service Board agreed to discontinue Additional Regional Forums after completion of the eight region cycle in 2016.
The location and agenda for Regional Forums are decided jointly by the Regional Trustee, Area Delegates and G.S.O.  The responsibility for initiating contact with the hotel is assumed by a local A.A. Host Contact working with the Forums Coordinator and Regional Trustee.  The Forums Coordinator at G.S.O. distributes registration forms to groups and service workers throughout the region and, working with the Host Contact and Regional Trustee, coordinates the details of the Forum.
There is no registration fee for Regional Forums or Additional Regional Forums.  The General Service Board covers the expenses of meeting rooms.  In many places, area committees, districts and groups cover or defray the transportation and lodging expenses of the trusted servants representing them at a Forum.
In October 2006, the concept of Local Forums was approved by the General Service Board. The purpose of Local Forums is to bring Forum information to A.A. members in remote, sparsely populated areas, urban neighborhoods or underserved A.A. communities. Any A.A. community or service entity may request a one-and-a-half or two day Local Forum. Unlike Regional Forums, the responsibility for Forum expenses such as meeting room rental and miscellaneous expenses are assumed by the Local Forum Committee. The General Service Board will send two participants, one from the Board and one from the General Service Office or Grapevine office and display literature at Board expense. Like Regional and Additional Forums, Board participation in Local Forums requires the approval of the trustees' Committee on International Conventions/Regional Forums. The Regional Forums Coordinator works closely with the Local Forum organizing committee to create an agenda that is responsive to local needs.
As all Forums are intended to be sharing sessions, no formal actions result. Sharing at Forums is captured in Forum Final Reports which are distributed to all attendees. Regional Forums Final Reports are available on G.S.O.'s A.A. Website. Forums provide unique opportunities to share and exchange valuable experience, ask questions and spark new ideas.  Regional Forums and Local Forums carry A.A.'s message of love and service by improving communication at all levels of our Fellowship.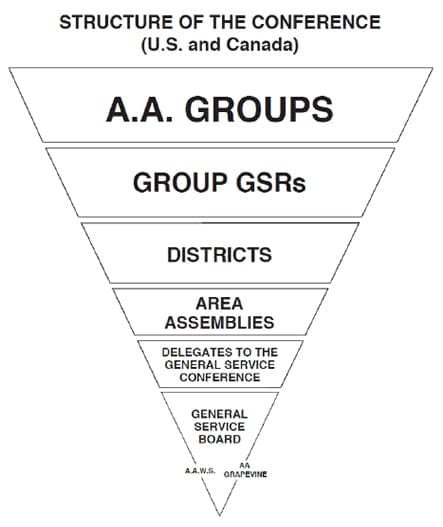 Regional Forums-Welcome Committee Duties
The welcome contact will need a committee of at least 10 members to help out with the following:


Registration: Please assign a Registration Chairperson. At least 2-4 people should be available on the desk, and relief teams as needed. G.S.O. will provide all office supplies for the registration desk. Registration is scheduled for:



2:00 through 10:00 p.m. on Friday
8:30 a.m. through 10:00 p.m. on Saturday
8:30 through 10:00 a.m. on Sunday for late arrivals

Note: Registration Chairperson should be available by 12:00 noon Friday to assist with name badge preparations followed by 1:00 p.m. training sessions for chair/volunteers.



Carry the Message Literature Displays:



SET UP AND TAKE DOWN: Four People are needed to help set up on Friday at 10:30 a.m. Also, three people to be available at 12:00 noon Sunday after the closing, to help pack last minute boxes going back to G.S.O. If at all possible, setup crew should also be available for tear down on Sunday.
STAFFING LITERATURE TABLES: Trusted servants are invited to staff "Carry the Message Literature Display" tables to help pass along information about AA literature, especially the items that support committees' Twelve Step efforts including Grapevine, Corrections, Treatment, Special Needs-Accessibilities, Public Information, Cooperation with the Professional Community, Archives, and Literature. Current District and Area committee chairs involved in the above service areas are especially encouraged to share their experiences.



Volunteers are needed to serve as:



Greeters to Welcome Forum attendees at hotel/facility near the registration desk from 2:00-7:00 p.m. on Friday on the first day of the Forum.
Greet attendees at the doors at the beginning of general session.
Distribute handouts throughout the weekend.
Serve as guides to attendees on Saturday towards workshop locations.



Translation Equipment:



Volunteers will be needed all weekend to check in and out translation equipment, with busy times before the opening session on Friday and again on Sunday after the close of the Forum.



Workshops:



Someone is needed to place and remove signs at workshop rooms at 6:30 p.m. and 8:15 p.m.



A. Meetings:



A. meetings may be scheduled throughout the weekend at designated times.
A. meetings can be scheduled to take place on Friday at 4:00 p.m. and Saturday and/or Sunday at 7:30 a.m.



Hospitality Suite:



To watch over the room (if we get one) and keep it maintained.
To keep coffee urns filled and keep track of what the hotel supplies
Order prudently from the hotel snacks.
To help the hotel with the Ice Cream bar (members pay).